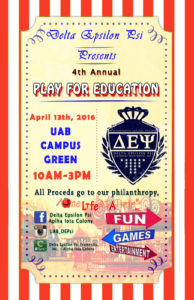 Play For Education is an annual service event which the Alpha Iota Chapter hosts every Spring on the UAB Campus Green. The event itself, is a carnival-like event where we offer food and games of a large variety for everyone to come and enjoy. All proceeds from this event go to One Life At A Time, a 501(c)(3) that goes to promoting child literacy and promoting medical camps in third world countries such as India.
Each year the Alpha Iota Chapter of Delta Epsilon Psi Fraternity, Inc. successfully raises more money for One Life At A Time than in previous years. We have been able to raise approximately $4000-$5000 every year and this is only possible because of the generous donations we receive from our numerous sponsors. We usually have 3 different brackets of sponsorship: White, Blue, and Silver Sponsors. For more information on sponsorship, please contact our current Service Chairs.
Here are some of the attractions which we have had in previous years:
Food and Drinks
Dunk Tank
Jousting
Toxic Drop
Pie-A-Brother
Paint-A-Brother
Shoot-A-Brother
Ring Toss
Project Puppy Play
If you are interested in volunteering then please fill out this form.